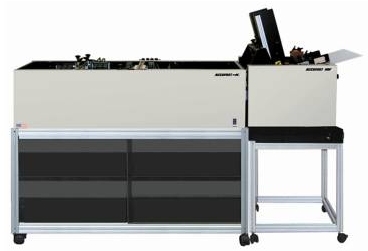 The ACCUFAST PMx revolutionizes commercial ink jet printing.

By using unique X-Pansion technology, ACCUFAST enables any business to increase productive capacity without re-tooling the shop or jeopardizing quality, service or productivity. Never before has this powerful a business tool come wrapped in such an attractive, simple, easy to use package.

PMx Technical Specifications [top]
Physical
Height adjustable:
33" - 37" input, 37" – 41" overall;
Width 17.5" inside, outside with covers 20.83"; Length 42"
Weight 145 lbs., machine, 15lbs., accessories, total weight 160 lbs


Construction Details


Completely welded steel sub frame with aluminum transport tables.
Formed steel side covers.
40 inch dual vacuum transport belts of non-stretch bonded belt.
Ball bearings locked to shafts.
Precision ground (+/- .001") encoder wheel mounted on ball bearings.
Step lock casters.



Electrical
Std. 2 imager configuration 120/240 VAC 50/60hz 5/2.5 amp.
For each additional imager, add 1.5 amps at 120 VAC.


Performance
Speed: Variable from 0 to 100 in. per second.
Software linked to resolution.
Print Resolution:


150, 200, 300, 600 dpi horizontal;
300, 600 dpi vertical.

Piece
Thickness: Single sheet to ½ inch.
Maximum Width 17.5", Maximum Length 17"

Image Area: Dependent on number of Imagers.
Up to 4 imagers with 1.5 in. print each.
Two imagers (3") print band is standard.

Printing
Fonts: Selectable from all true type fonts resident in the host computer for man readable characters. All common bar codes resident in printer operating software.

Image Control: Single pixel (1/300 in) image placement control in both horizontal and vertical directions. Between both ink jet cartridges and imagers.

Productivity: Typical piece 10" long runs at 15,000 per hr at 300 x 600 dpi. Productivity varies depending on piece length, print resolution and image complexity.

Imager Configurations [top]

The ACCUFAST PMx is equipped with an imager system that may be highly customized. The two imager mounting bars support up to 4 imagers, each with as many as 4 cartridges (3 cartridges is standard). The combination at right consists of a satellite imager with two individually mounted cartridges, a single auto capping and a single manual capping imager. This machine will print two 1.5" bands and two .5" bands on pieces up to .5" thick. This application was created to print blocks of information on a publication with two small bar codes and some text at the bottom of the book.