We have adapted the HP technology to printing labels. The
LPx
is a reel to reel label printer that uses a mild vacuum to hold the label web to the transport plate as the labels are moved under the imagers.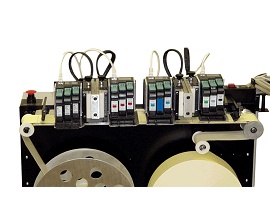 The
LPx
can be ordered with up to 4 imagers. It is also available with a camera based print verification system that scans each label printed and stops printing if a problem is found. The camera uses up imager slots, and is a custom ordered device.
The
LPx
shown at left is printing a 4 color image on Post-itŪ Notes to create a custom RPN.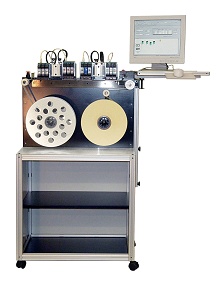 The Standard
LPx
is a self contained unit with provision for a lap top. It is used to print either fixed or variable images. It can be rolled around the shop on heavy duty casters and accepts 10 inch rolls of stock up to 4 inches wide on 3 inch cores.