Curing Transports
since Jan'17
There are two UV Curing Conveyors available. One covers 3 inches of print area, the other 6 inches. Both use 220 VAC power, but the 3 inch unit takes a bit less. Both use a medium duty variable speed Vacuum conveyor with UV resistant belts. The second major difference is that the 6 inch unit sits on a 24 inch wide transport while the 3 inch unit handles pieces up to 13 inches wide.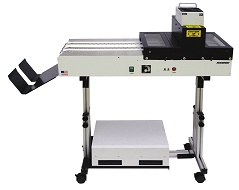 Use the
3x13VT/UV
unit for curing post cards, self mailers and pieces up to 6x9. The curing area is offset to allow for significant flexibility, but publications and flats present difficulty. The text to be cured is often outside the curing window.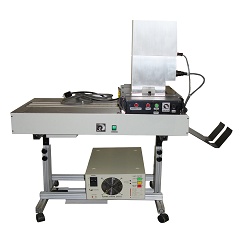 The
3x24VT/UV
comes with 6 inches of cure, a more powerful motor and is set up for booklets and magazines, as well as flats. This unit is more appropriate for mail shops that can not regulate or limit the types of material being cured. It is much more flexible and a bit more powerful than the smaller unit. It also features extended bulb life, thicker product capability, lower head temperatures and a rotating lamp head.
The UV Cure head is also available as a bolt on kit for existing transports.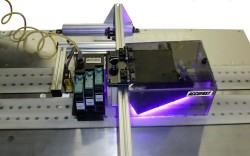 The
ACCUFAST CKx/UV
is the industry's first add on UV Cure kit. We can turn an existing base into a UV cure printer with surprising ease. The kit includes a chiller, UV power supply and an imager power supply (not shown) in addition to the bits shown mounted on one of our conveyors.
The
CKx/UV
is designed for safety as well as productivity. The UV lamp is enclosed in UV shielding Lexan and will only light if the lexan cover is down and the conveyor belt is turning and data is flowing to the print head. The CKx/UV is easy on the pocket book - it runs off regular 110vac current. You get 1.5 inches of print and cure in one package that takes up less than 2 feet of transport.
Combine the
CKx/UV
with ACCUFAST Ultra UV cure ink to bring new life to an old base.