Address Printing
since Jan'17
Perhaps no other line of address printers offers the user so much productivity. ACCUFAST leads the way in practical features that continually save the day for professional mailers.
Ethernet Connectivity
Looks like any other printer on the printer list with its Windows® Driver
Single pixel accuracy across all imagers and cartridges
Advanced GUI software available to allow bar code shaving, image rotation, number generation, password control to access set ups, etc.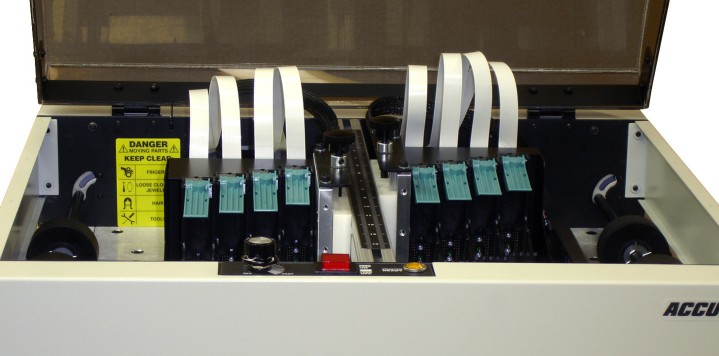 The ACCUFAST
P8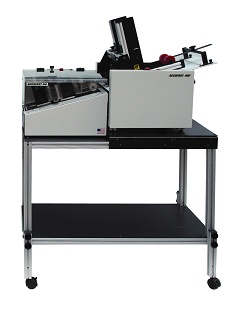 The ACCUFAST
P4
pictured at left can be supplied with its own feeder and stand (shown with an
HDF
), but it is usually installed as a table top printer. The
P4
is the standard for entry level professional machines. If you plan to make money mailing, and you need to keep your life simple - even when things go wrong - you need a
P4
.
More P4 systems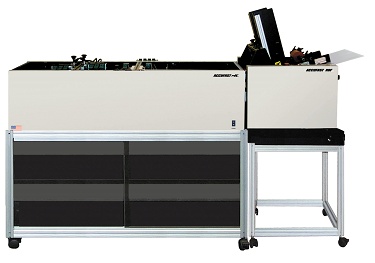 The
PMx
pictured to the left with an
HDF Feeder
and matching stands is a high powered addressing module. It may be configured as a stand alone, a table top or as a part of an in line system at the end of an inserter. The
PMx
features flexible print configurations that can be changed in the field. This machine may be purchased with 1.5 to 8 inches of print split into 4 imagers.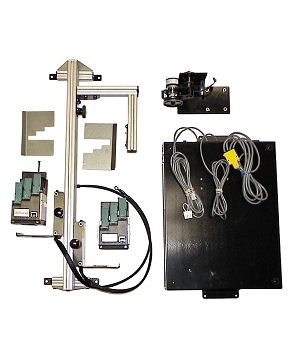 The
CKx
is an imaging kit that converts an old base or transport into a modern ink jet addresser. As the addressing machines have evolved, ink jet technology has changed leaving many serviceable transports obsolete. Reclaim the base by removing the obsolete ink jet and replacing it with an ACCUFAST
CKx
. This work is best done by a professional installer as old bases are often worn bases and should have belts and bearings upgraded as a part of the project. Note, the quality of the image relates directly to the quality of the transport more than to the quality of the imager. The kit at left has two imagers. It can be configured in many ways from one to 4 imagers depending on the application.
CKx
kits are often sold with
bulk ink
supplies to create a true high volume unit.

There are additional applications of the
CKx
. We took a 24 inch vacuum transport and mounted a
CKx
with typically a single head but room for two to create a slick publication printer. Just butt this printer up to the output of your old labeling machine and you can spray addresses on you publications. NO more labels.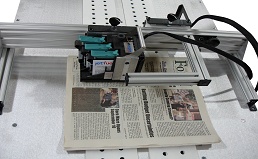 If you're doing slick cover stock, you can add a UV cure head to the transport between the imager bar and the output. Call for information on this set up.